(Originally published on September 26, 2007 )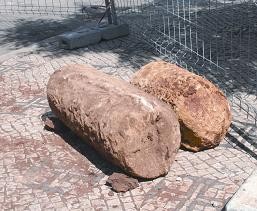 During renovation works taking place at Av. Norton de Matos in Tomar, two fragments of columns probably belonging to a milestone were unearthed. If this is the case, this landmark would belong to the Roman road linking Braga to Lisbon and passing in Tomar, then called Seilium. Given the proximity of the forum (at the back of the Municipal Fire Station) this milestone should thus indicate mile 94 from Lisbon, adding one more milestone to the following list:
Two milestones found in S. João do Couto and now in the Museu do Carmo in Lisbon; one dedicated to Tacitus, CIL II, 6197, and one to Maximian, CIL 6198;
Two milestones found in the Church of St. Maria dos Olivais;
A milestone discovered on Everard Street and buried there.
vide route here – https://viasromanas.pt/#condeixa_santarem